So, I'm pretty sure only one person really cares what I think about this movie (Hi Anne!) and all my other friends think I'm crazy, but here goes:
HIGH SCHOOL MUSICAL 3 IS AWESOME!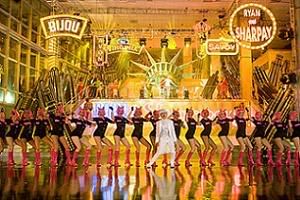 First off, I love Kenny Ortega (the director/choreographer). He has probably been attached to a lot of movies you like. He was the director of Hocus Pocus. He was the choreographer to Dirty Dancing. etc etc. The man knows his shit. Now, on to the movie.
I'm sure you can predict the main plot elements. Yes, our main love interests have some conflict. Yes, there are solos that follow. Yes, Sharpay is scheming (but not so much). Yes, there is a
musical within the musical
. Yes, it is all awesome.
The only real complaint that I have is: there isn't enough of a plot. Not for me, anyway. I wish the movie could have been longer, because there is so much more that I wanted to see. I especially wanted more story lines for some of the secondary cast members, and I think once Anne sees the movie, she will probably know exactly what I'm talking about.
The musical numbers are
really
good. While I usually hate any solo Gabriella sings, I actually liked her songs in this one. And Troy's solo wasn't nearly as emo as his last venture into self declaration.
Sneak Peek: Can I have this Dance:
My favourite song is probably this one: I want it all!
That is only a small glimpse of that song! Seriously, the entire cast is in that one.
I don't think I could pick which movie would be my favourite of all three, but there are certain things in each one I like better. For example: the third one definitely has the best songs/dances. The second one has the best plot. I'm biased on that choice since Ryan and Sharpay are my favourite characters and they are displayed prominently in the second movie. And the first...well, the first establishes the entire franchise. And the choreography in Getcha Head in the Game is insane!
Anyhoo, I loved it. I can't wait for it to come out on dvd. (We already have the soundtrack). Oh, and if anyone goes to see it, stay past the initial credits. There are bloopers!
*Oh, and the Ice Tour was pretty good, but freakin' long. The beginning will probably be boring for little kids because they just go over the words and choreography to one of the new songs. Once it actually gets underway, its pretty cool. I do have to say, the prices of shit is getting ridiculous. I paid $10 for one bag of cotton candy! Ten-freakin'-dollars!